1) The Feature of 40l 50l 80l industrial refrigeration dehumidifier
1. Headpower company has rich experience in design and manufacturing of refrigeration dehumidifiers.Its series of refrigeration dehumidification equipment for air dehumidification are applicable for places with need of dehumification, such as national defense engineerings,civil air defense engineerings,tabacco and petrochemical industries,metrostations,aerospace,decontamination engineerings,lab,telecommunication equipment rooms,archives rooms, foor rooms,pharmaceutical and film workshops,and specialty glass manufacturing.
2. Headpower dehumidifiers include series of regular dehumidifiers,pipe dehumidifiers,heating pipe dehumidifiers, dehumidifiers forcoastal engineerings,dehumidifiers for tabacco storehouses, dehumidifiers for air-conditioning of undergroud engineerings,full fresh air dehumidifiers,and united dehumidifiers
2) Dispaly:

3) Packing and shipping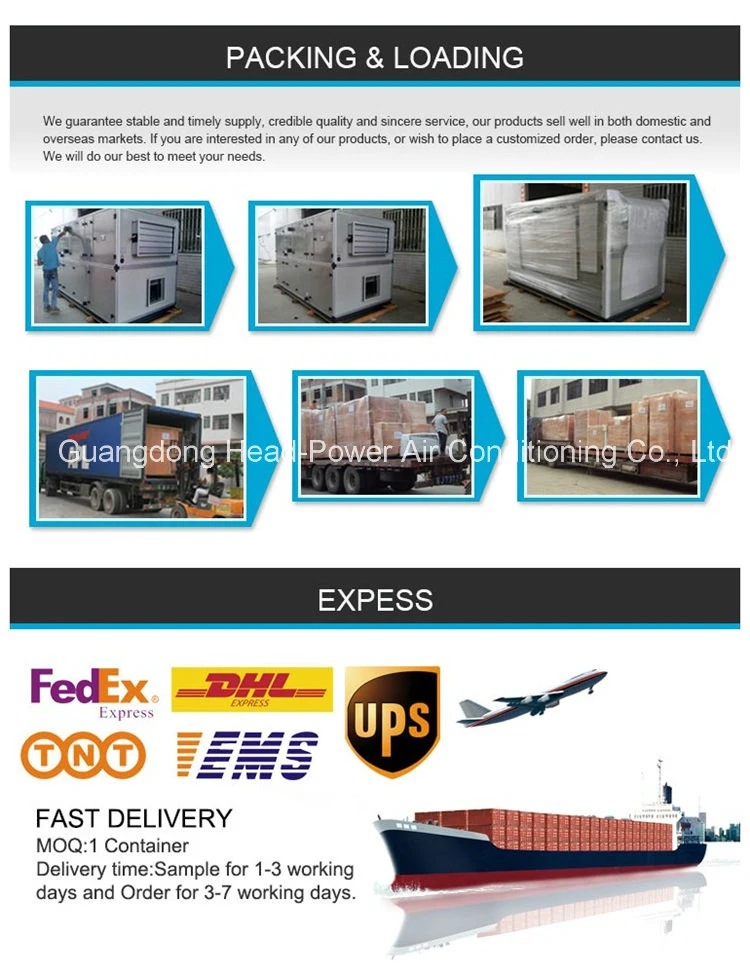 4) Our company file

5) Company Culture:
Serve the society with technology, serve the customer with heart, become a first level air conditioning company in China.
Innovation, loyalty, responsibility, value.
Provide customer with high quality product and considerable service.
6) Our services:
1) Changing on material, color, shape, construction:Acceptable.
2) General inspection on fixing before packing
4) We can offer you premium quality , competitive price, prompt delivery and low minimum orders.
5) OEM,ODM service.
7) Project and client:
| | | | |
| --- | --- | --- | --- |
| No | Project Name ( China) | Industry | Area |
| 1 | Zhongshan people hospital | Hospital | Zhongshan |
| 2 | Hankou Railway Station, Union Hospital, Wuhan Branch | Hospital | Wuhan |
| 3 | Wuhan City, Wuchang Railway Hospital | Hospital | Wuhan |
| 4 | Three townships Zhongshan People's Hospital | Hospital | Zhongshan |
| 5 | Zhujiang hospital of Guangzhou | Hospital | Guangzhou |
| 6 | Zhongshan Garden Hotel | Hotel industry | Zhongshan |
| 7 | Western Sunshine Hotel, Zhongshan | Hotel industry | Zhongshan |
| 8 | Shunde Golden Hotel | Hotel industry | Foshan |
| 9 | East China Hotel in Guangzhou | Hotel industry | Guangzhou |
| 10 | Nanyou Zhuhai hotel | Hotel industry | Zhuhai |
| | | | |
| --- | --- | --- | --- |
| No | Company Name ( Overseas) | Product | Country |
| 1 | SB Global Energy | Air cooled ducted split | Holland |
| 2 | Bentos pharmaceutical products Ltd. | Clean air conditioners | Nigeria |
| 3 | SOGAMEF | Air cooled chiller | Gabon |
| 4 | SeaService shipping | Marine air conditioner | Russia |
| 5 | EURO STANDARD LIMITED | Fresh Air Handling Unit | New Zealand |
| 6 | Henrich trading center | Air cooled/water cooled air conditioner | Philippines |
| 7 | Marine Engineering Systems Pte.Ltd | AHU, chiller,etc | Singapore |
| 8 | Elektro Werner Heitzinger | Heat recovery air handling unit | Austria |
| 9 | Nyborg Marine Equipments AS | Marine Air Handling Units | Norway |
| 10 | Wilfred Limited | Heat recovery air handling unit | UK |
8) Contact way:
Angie Pan
Mobile :86-13630004922
http://headpower2.en.made-in-china.com