Product Description
1.Drying herb: pseudo-ginseng, aniseed, Chinese yam, sea cucumber, honeysuckle ect.
2.Drying agriculture products: dragon fruit flower, rose, mushroom, red pepper ect.
3.Drying fruit: banana, apple , mango, date, wolfberry, lemon, olive ect.
4.Drying seafood: sea fish, shrimp, seaear, cuttlefish ect.
5.Drying tea: puer, red tea, ect.
6.Drying food: noodle, sausage, preserved pork, beancurd sticks ect.
7.Drying incense: incense, mosquito incense ect,
8.Drying wood: redwood, redwood furniture ect.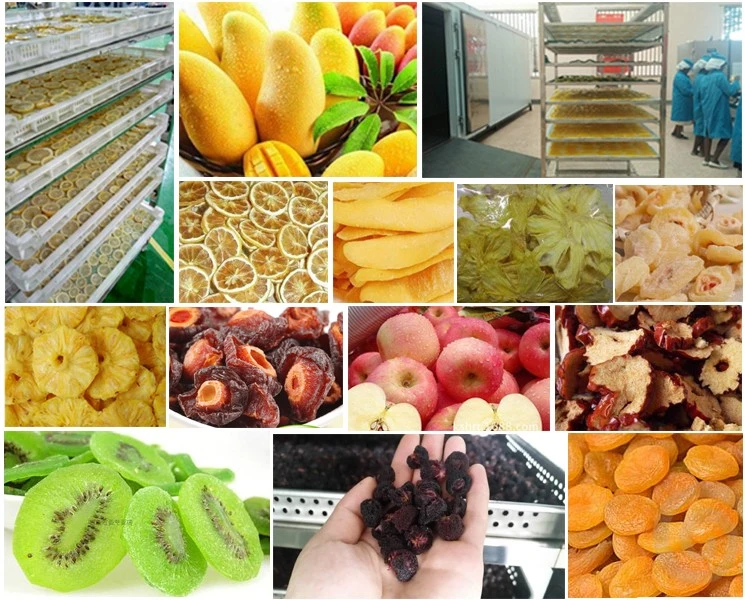 Certification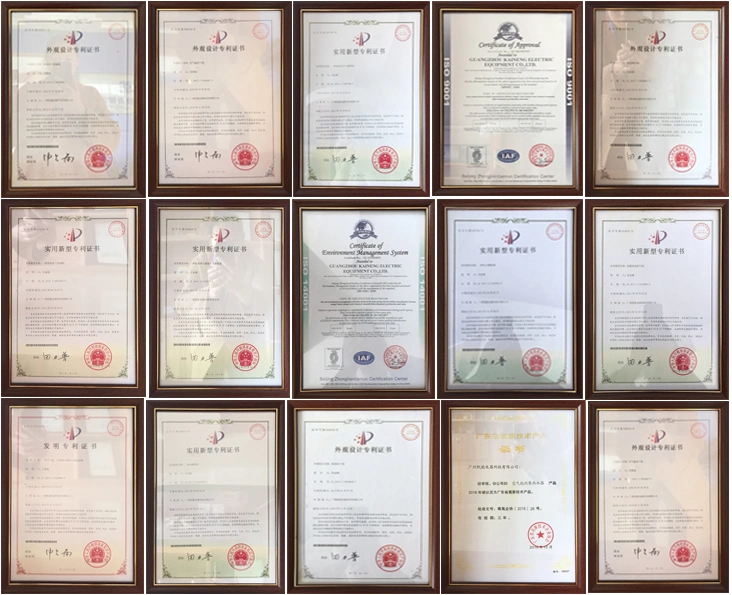 Our products are certified by ISO14001, ISO 9001, CCC, CE and so on.
Main features of Kinkai dryer
1.Energy saving&Environmental protection
Adopt close dehumidify+circulating drying type,saving operating cost;
Without waste gas and waste heat pollution,low noise
2.Running Stable,operating easily
PLC+Touch Screen,running stable,operating easily;
Adopt PLC control,can setting different drying curve,suitable for drying different materials.
3.Second waste heat recovery technology(patent)
Adopt air to air heat exchanger dehumidify and recovery waste heat at the same time, saving energy more than 40%.
4.Exact control temperature and humidity
According to different material setting different drying curve, the heat pump dryer can control the drying chamber temperature between 20-80ºC.
5.Recovery volatilized component
Some kinds of material contain volatilized component,
In drying processing,hot and wet air will become condenser water then drain,
collect the condenser water so that collect volatilized component
Product Principle
1, Dryer evaporator of refrigerant absorb the air from outside.
2, Then compressor works that make the air temperature rise.
3, Heat exchanger change the hot air into drying chamber.
4, Final materials will be dried by the hot air circulating in drying chamber.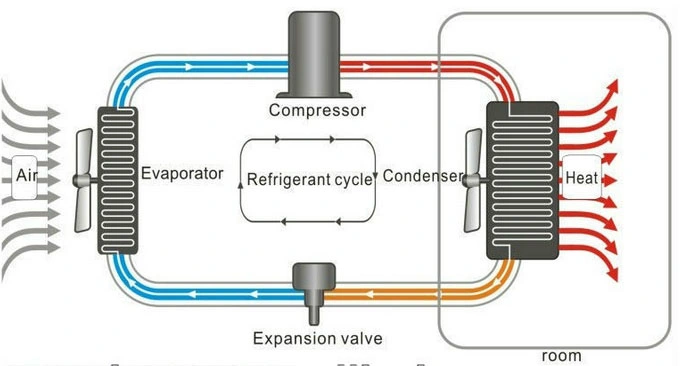 Product Component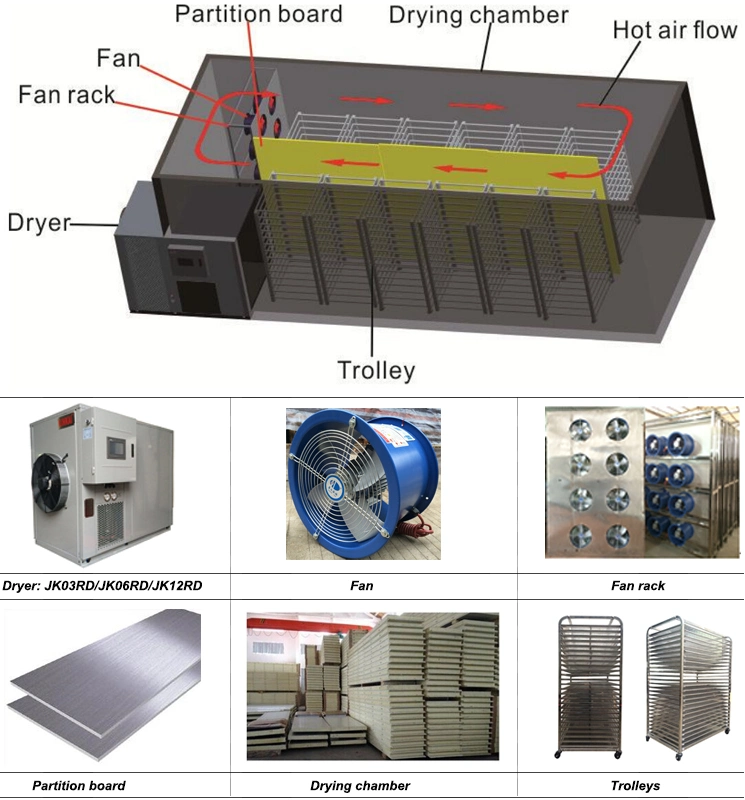 Trolley and Tray
Quantity: 16 trays per trolley
Recommend: 6 trolleys JK03RD
12 trolleys JK06RD
20 trolleys JK12RD
Material: 304 Stainless Steel/Steel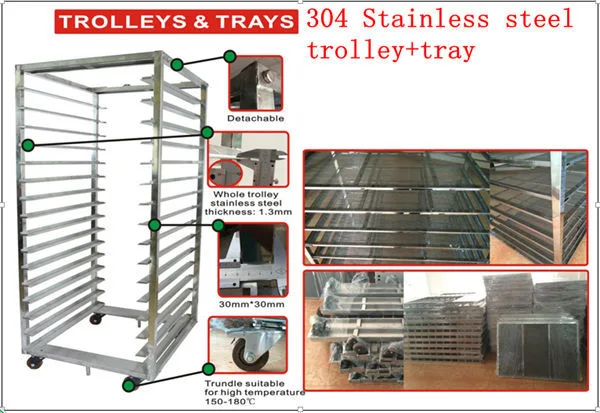 Chamber Component
Material: 304 Stainless Steel/Steel outside polyurethane inside
Advantage: 1. Drying process completely meet the requirements of food hygiene.
2. Cleaning and hygiene in the good condition, the finished colour and lustre is bright.
3. Automatic control, reduce the labor and the labor intensity.
4. During drying, there is no water/gas/solids generating, the green environmental protection; Good and comfortable working environment .
5. Long service life, low operating cost, good economy.
6. Temperature and humidity is automatic control; Small fluctuations in the temperature and humidity in drying process, the drying quality is stable and reliable.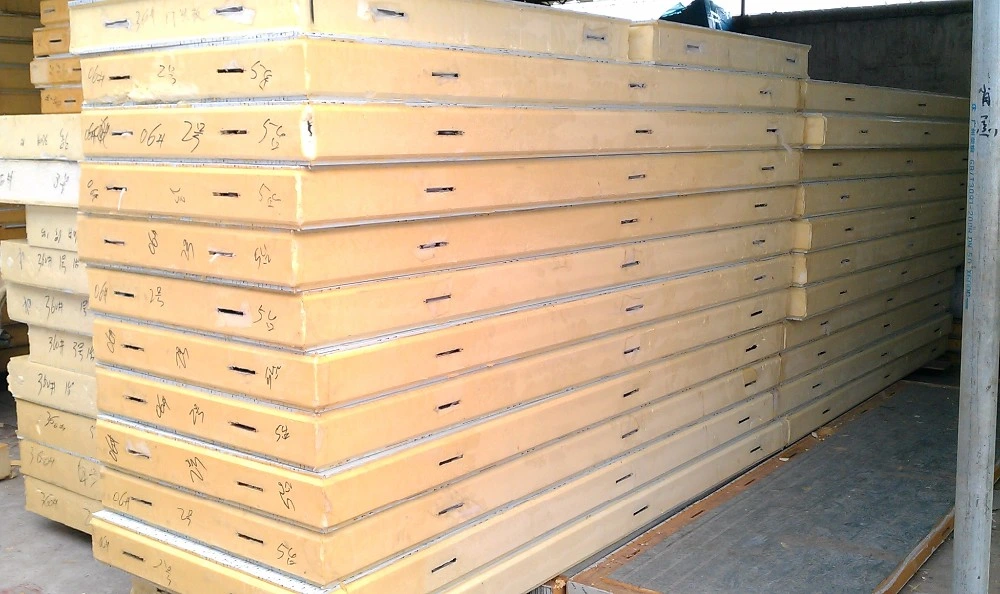 Main Engine Component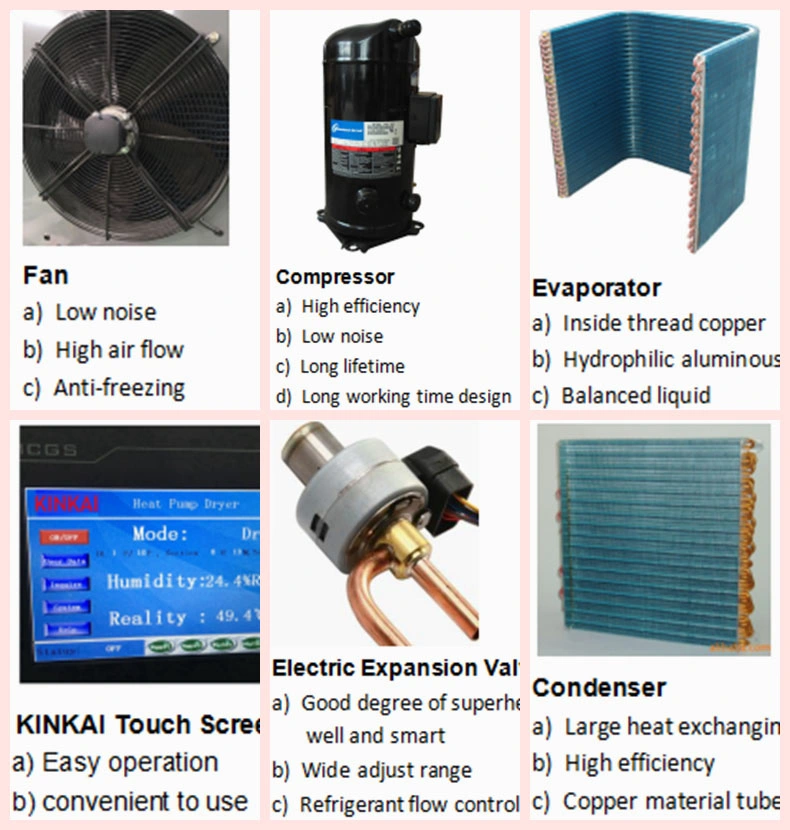 Technical Parameters
Single dryer + Drying chamber

Model
Unit
JK03RD
JK06RD
JK12RD
Power input
KW
5.5
9.5
19.4
Power supply
V/PH/ HZ
380V3PH,50/60HZ
220V/1PH,50/60HZ
380V/3PH,50/60HZ
Rated current
A
11A(380V),25A(220V)
19.0
39.0
Heating capacity
KW
10.5
21.0
42.0
Cooling capacity
KW
7.8
18.0
32.0
Dehumidify
L/H
12.0
25.0
50.0
Max temperature
ºC
<75
<75
<75
Working condition
ºC
0-43
0-43
0-43
Electric shock protection grade
I
I
I
Max exhause pressure
Mpa
3.0
3.0
3.0
Noise
dB(A)
75
75
75
Power consumption
KWH
4.8
8.5
15.0
Electric heater
KW
3.0
6.0
12.0
Blowing type
/
HORIZONTAL BLOWING 360°
Dimension of dryer
MM
1650x856x1280
1650x1056x1280
2250x1360x1590
Weight
KG
180
285
480
Double dryer + Drying chamber
Model
Unit

JK03RD(*2)

JK06RD(*2)

JK12RD(*2)

Power input
KW

11.0

18.4

32.8

Power supply
V/PH/ HZ
380V3PH,50/60HZ
220V/1PH,50/60HZ

380V/3PH,50/60HZ

Rated current
A

22A(380V),50A(220V)

37.0

66.0

Heating capacity
KW

21.0

42.0

84.0

Cooling capacity
KW

15.6

36.0

64.0

Dehumidify
L/H

24.0

50.0

100.0

Max temperature
ºC

<=75

<=75

<=75

Working condition
ºC

0-43

0-43

0-43

Electric shock protection grade

I

I

I

Max exhause pressure
Mpa

3.0

3.0

3.0

Noise
dB(A)

<=75

<=75

<=75

Power consumption
KWH

9.6

17.0

30.0

Electric heater
KW

6.0

12.0

24.0

Blowing type
/

HORIZONTAL BLOWING 360°

Dimension of dryer
MM

1650x856x1280

1650x1056x1280

2250x1360x1590

Weight
KG

180(*2)

285(*2)

480(*2)
Recommend Dryer + Drying Chamber Sizes
Item
Description
Product Capacity
Drying Chamber Sizes
1

One unit JK03RD dryer+drying chamber

300KG/batch

3160*2070*2200mm

2

One unit JK06RD dryer+drying chamber

600KG/batch

5700*2170*2200mm

3

One unit JK12RD dryer+drying chamber

1200KG/batch

5810*3230*2200mm

4

Two unit JK03RD dryer+drying chamber

800KG/batch

7510*2070*2200mm

5

Two unit JK06RD dryer+drying chamber

1500KG/batch

10530*2170*2200mm

6

Two unit JK12RD dryer+drying chamber

3000KG/batch

10750*3230*2200mm
Delivery and Package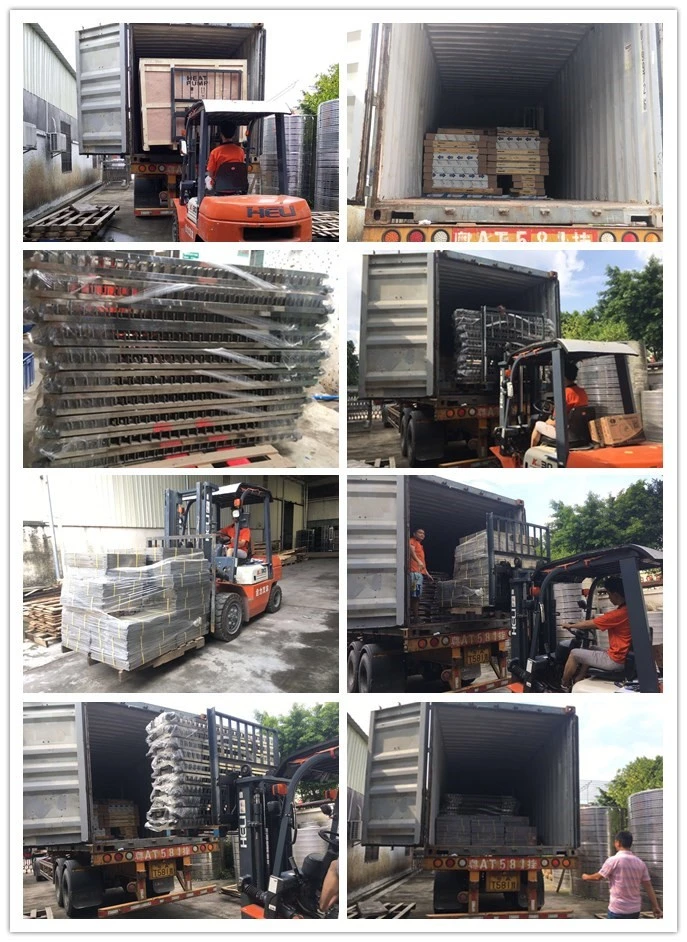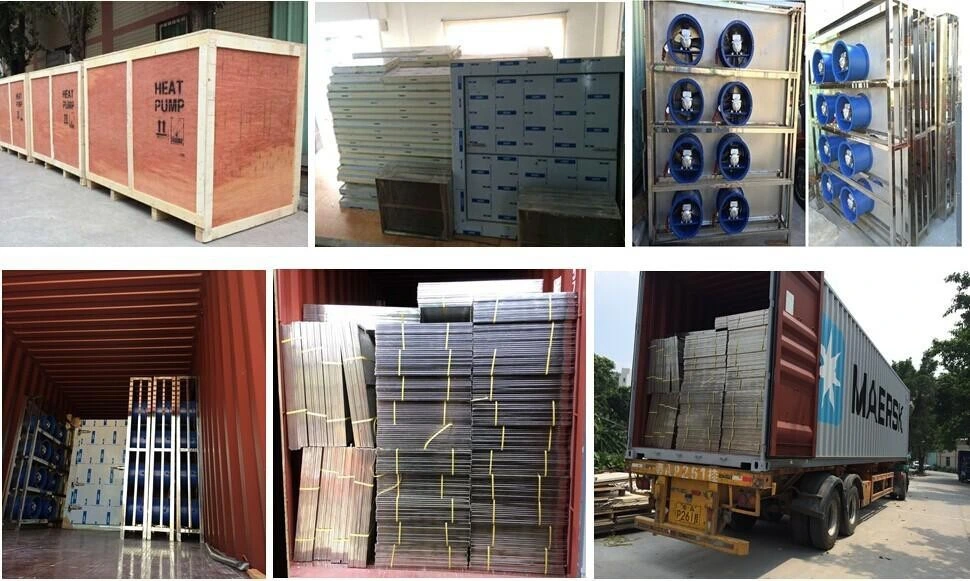 If you are interested in our drying machine products, please contact us.