1, Heat pump integrated system: The heat pump system are integrated by world-class brand compressors and Electronic expansion valve, high effective and anti-corrosion Condenser, Evaporator, Heat exchanger, so as to achieve high efficient and energy-saving drying effect and long run reliability. The electronic expansion valve is equipped to accurately control evaporator's liquid supplying volume automatically, and it has incomparable superiority compared with thermal expansion valve or capillary.
2, Intelligent control system: The heat pump unit adopts independent developed MCU intelligent control module which based on ARM CPU, with powerful and easily-extensible and superior to conventional PLC control mode.
The operation of the whole set of equipment is controlled by PLC of the general control system, Use touch screen interactive mode, easy to control the device.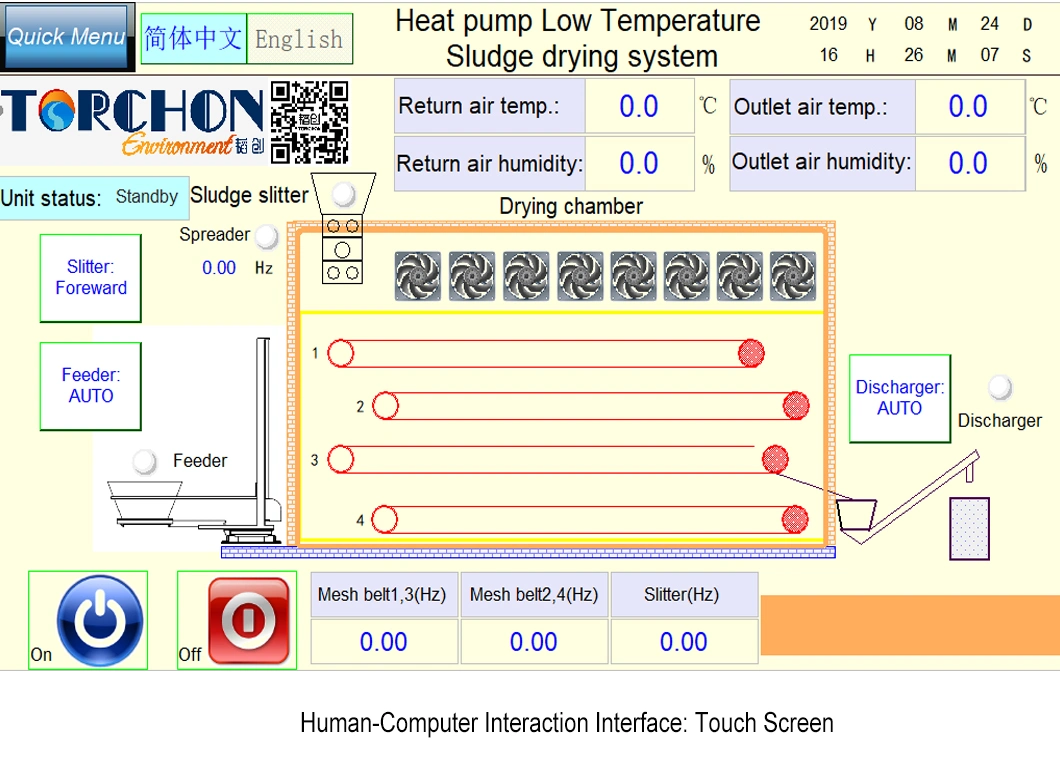 3, Multi-step shaping patent technology: It solves the problem that high water content (85%~89%) and high viscosity sludge is difficult to shape.
4, Condensate water circulating cooling patent technology: It fully utilizes the low temperature characteristics of the condensed water, sufficiently cools the return air, improves the dehumidification efficiency, and avoids the consumption of tap water for cooling.
5, Sludge slitting and shaping mechanism: Auto-induction tension-and-loosen mechanism, It solves the problem that the slitting machine is often stuck with hard objects. When entering hard objects, the driving shaft and the driven shaft are automatically loosening. After the hard objects passing, the shafts automatically return back.
6, Centralized lubrication system: The lubrication of equipment belt bearing is innovated from single discrete type to centralized lubrication type. The mesh belt bearing can be centrally lubricated in the maintenance door of the drying chamber for easy operation and avoiding omissions
7, Unattended weighing system: Software Copyright. It can realize the functions of remote data storage, monitoring, management and statistics of sludge weighing so as to prevent human intervention with weighing data and to solve the weight reduction measurement problem that the owners are most concerned about under the business model such as BOO/EMC.
8, Automatic weight-reduction measuring system: Software Copyright. It automatically collects and counts daily weighing data to make daily report of weight reduction. The system is integrated in the equipment control system, combined with the NB-IOT system, through which remote query by mobile phone APP is feasible.
9, IOT monitoring system: Software Copyright. The equipment running data and status can be mastered at any time through mobile phone with the special developed APP, monitoring daily maintenance performance, evaluating potential failures of equipment so as to take preventive measures in advance to ensure continuous and efficient operation of equipment.
10, Rotary & vertical lifting feeding mechanism: Patented technology. Independent developed feeding mechanism solves the problems of morphology denaturation and secondary pollution during sludge conveying as well as narrow operating space problem.
Technical Features:


1). Energy efficient:
√ Reduce the moisture content from about 85% to 30%-10% and the weight reduce more than 70%.
√ Closed insulation system, thermal energy recycling, greatly reducing dehydration power consumption.
2). Safety and Environmental
√ Less than 75ºC low temperature drying, Dried material outlet temperature <55ºC,no explosion hazard.
√ Closed drying system without peculiar smell discharging.
√ As sterilizing by low temperature heat, the bacteria of the dried mud is stable.
√ The water vapor generated in the process of drying is condensed and discharged, without secondary pollution.
√ Integrated functional structure. Automatic control.
√ Parameter settings can be performed according to customers' requirements.
√ Variable frequency gear motors for easy adjustment of drying time and speed.
√ Modular design, compact size.
√ Standard modular installation, increasing productivity, easy transportation and on-site installation.
√ Key components supplied from international brand with reliable quality.
√ The strict quality and service system as guarantee.
√ Low speed operation, no mechanical collision, low wear and long service life.
√ The machine structure is made of SUS304 stainless steel.
√ Save water. Condensate water is used for cooling and dehumidification to avoid tap water consumption
√ Save on maintenance costs. Simple maintenance and few consumables.
√ Save labor. Automatic control for reducing manpower.
√ Save transport costs. Reducing sludge shipping costs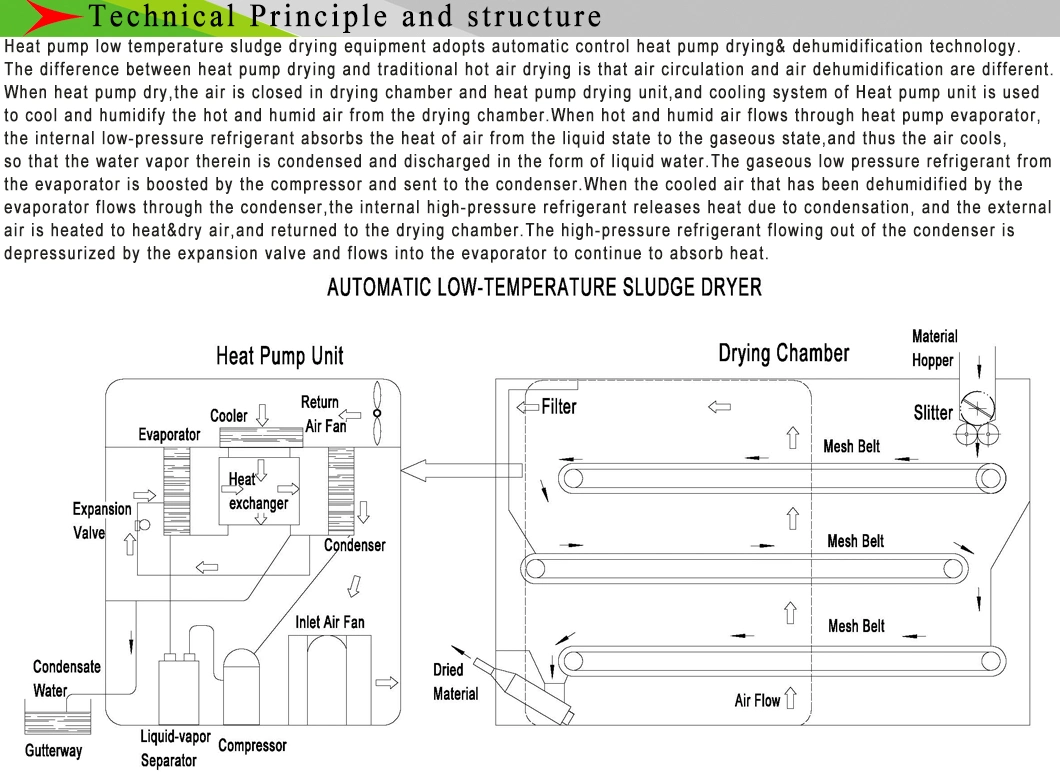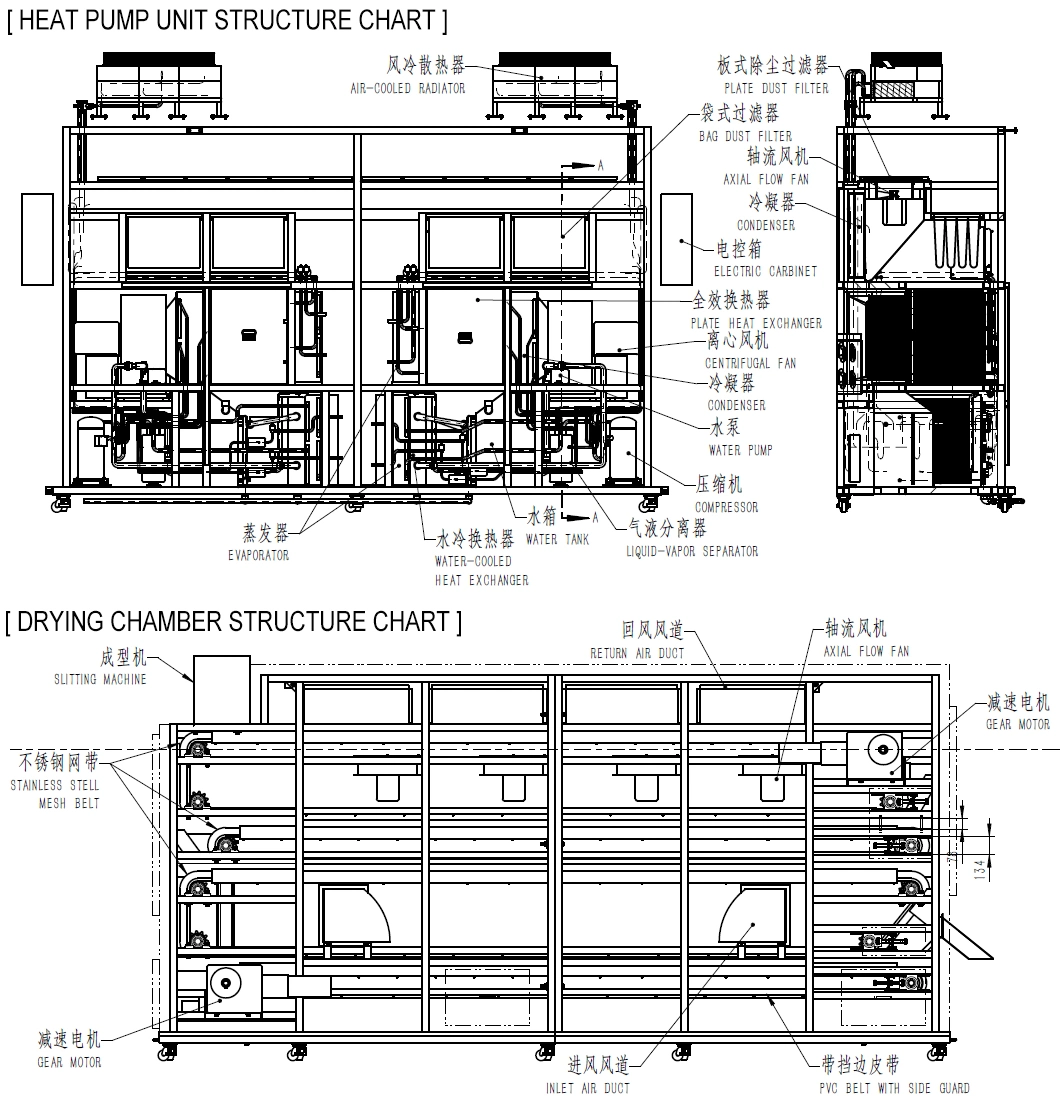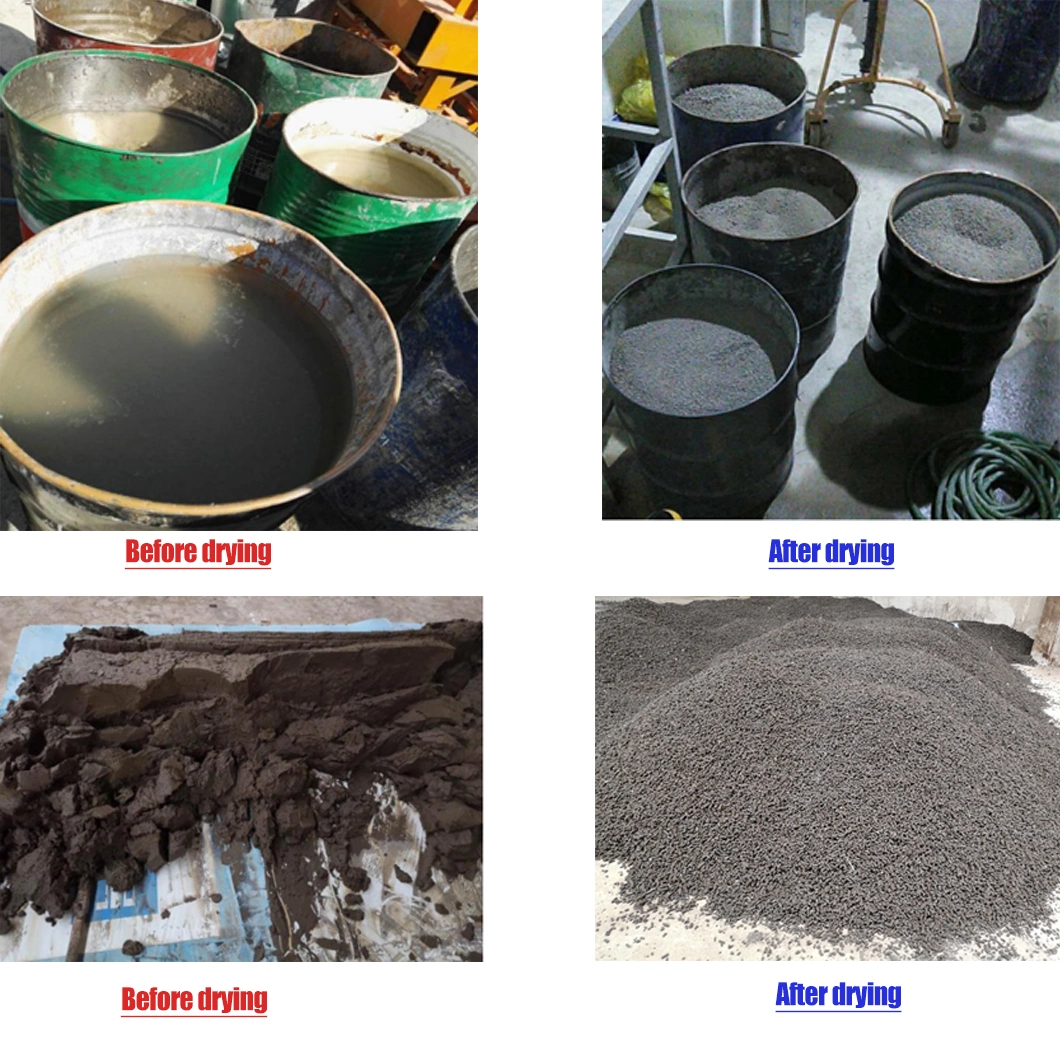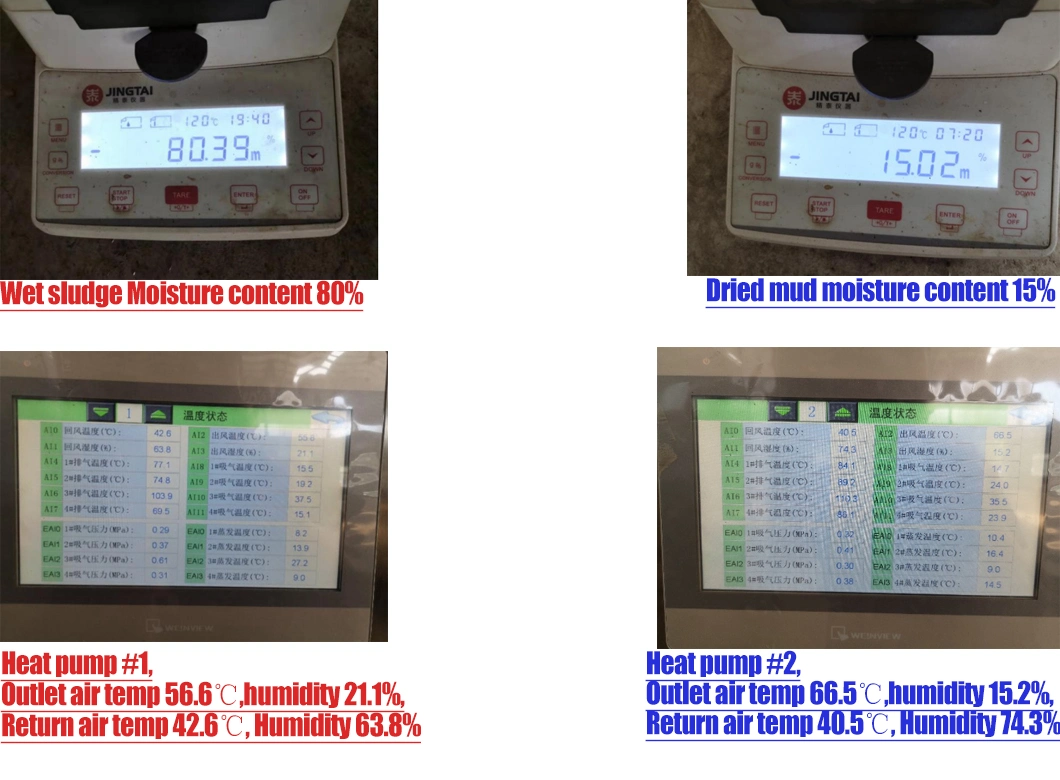 Pictures of Our dryer: